PUBG 2.9 Patch Notes Update: The latest patch notes of PUBG Mobile are live on the official website, in which a lot of changes have been made to make the game more exciting and enjoyable for everyone.
PUBG MOBILE will begin pushing out the update on 07-09 November at 11:00 (UTC+0). To ensure a quick and smooth update, please ensure a good network environment and have enough available storage on your device.
Update Reward: Update the game between 07-09 September (UTC+0) to get 3,000 BP, 100 AG, and a DJ Vibe Helmet (3d).
PUBG Mobile Update Release Date (PUBG New Update Release Date)
Highlights
New Themed Mode
Snowy Village
Lucky Ice Tower
Snow Rail
Reindeer
Snowball Blaster
Snowboard
Snow Toddlers
Lucky Ice
Snow Blast Zone.
PUBG Unban: How to Unban PUBG Mobile Account 10 Years Ban?
PUBG Mobile Patch Notes Update
Here is the list of changes that have been done in the PUBG Mobile November Patch Update:
New Themed Mode: Frozen Kingdom
In the new themed mode, a new Snowy Village-themed area is available. Here, you can have fun interactions with Snowpals and snow-themed items.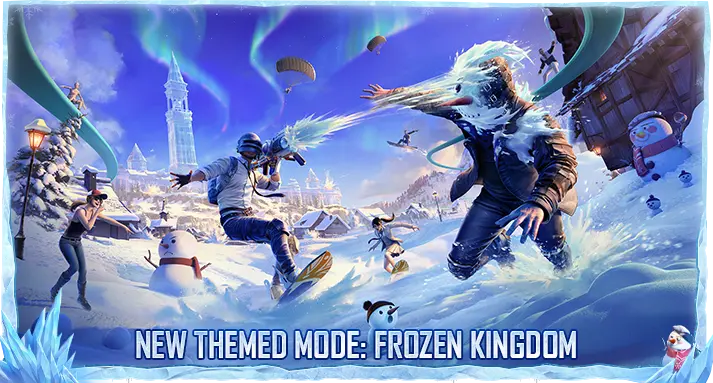 Snowy Village
A new themed area, Snowy Village, is added in the new update. The village covers a wide area of 280 x 150 and has loads of supplies. It is located near Stalber in Erangel, Iceborg in Livik, and Goroka in Vikendi.
Lucky Ice Tower
Players can sound the bell in the Lucky Ice Tower, and you can even summon rewards!
Snow Rail
The village also has a Snow Rail, which can help you quickly move around and gather supplies. It allows you to navigate flexibly between different areas of the village and also swiftly relocate to advantageous positions during battles for your team to counterattack more effectively.
Reindeer
The village also features a special 2-seat vehicle, the Reindeer. It's also a great choice for transportation, as it allows you to move all over the map swiftly.
Snowball Blaster
The Snowball Blaster can be used in many ways and has loads of functionality. When you aim it at the ground or a building, it can create a Snowpile Cover for you. When used on enemies, you can temporarily transform them into Lively Snowpals to restrict their movement. When facing bodies of water, you can use the Snowball Blaster to freeze the surface so that you can walk on it! It's definitely a practical yet entertaining weapon!
Snowboard
The Snowboard will also bring you a whole new experience. Apart from helping you glide and move on various surfaces, it can also be used with the Snowball Blaster!
Snow Toddlers
There are 4 lost little snowmen hidden near the Lucky Snowman. Search for the 4 hidden Snow Toddlers and bring them back to the large snowman. You'll then receive a token of gratitude.
Lucky Ice
There are lots of Lucky Ice scattered across the map, shatter the ice to get the supplies inside. Try using a melee weapon to break the ice more easily.
Snow Blast Zone
You'll find that snow has engulfed some Red Zones on the map, and the falling snow will bring about many interesting effects. Players within a Snow Blast Zone will be transformed into a Lively Snowpal if they are hit by snow.
New Season: Cycle 5 Season 15
New Legendary Items: C5S15 Glasses, C5S15 Set, C5S15 Parachute, C5S15 Mask, C5S15 Cover, C5S15 – SKS.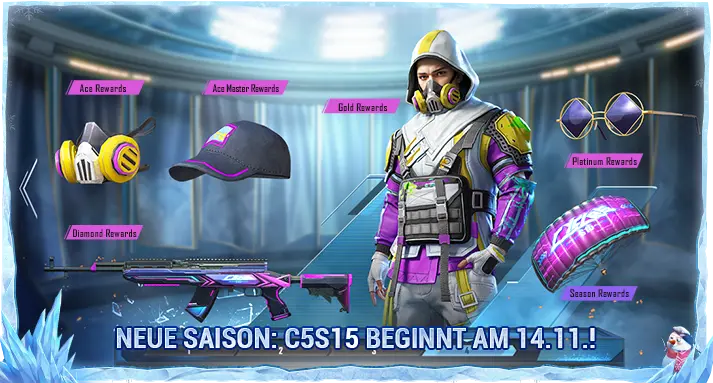 Conclusion
That's all about PUBG Mobile Patch Notes 2.9 November Update. If you have anything to share about the PUBGM Patch Update, leave your suggestions in the comments below. For more updates, stay tuned to PUBGMobileUpdate.org.